Black marble is a statement addition to homes that gives a sense of richness and elegance.   Black marbles are a stunning material that provides a sense of luxury to any place. All of our products can be made with a black finish. Whether it be vanity tops, wall panels or shower bases, we are here to meet your needs.
Our products can be customized in terms of design, size, form, colours and type.
Here are Mr Marble's best seller shades of black: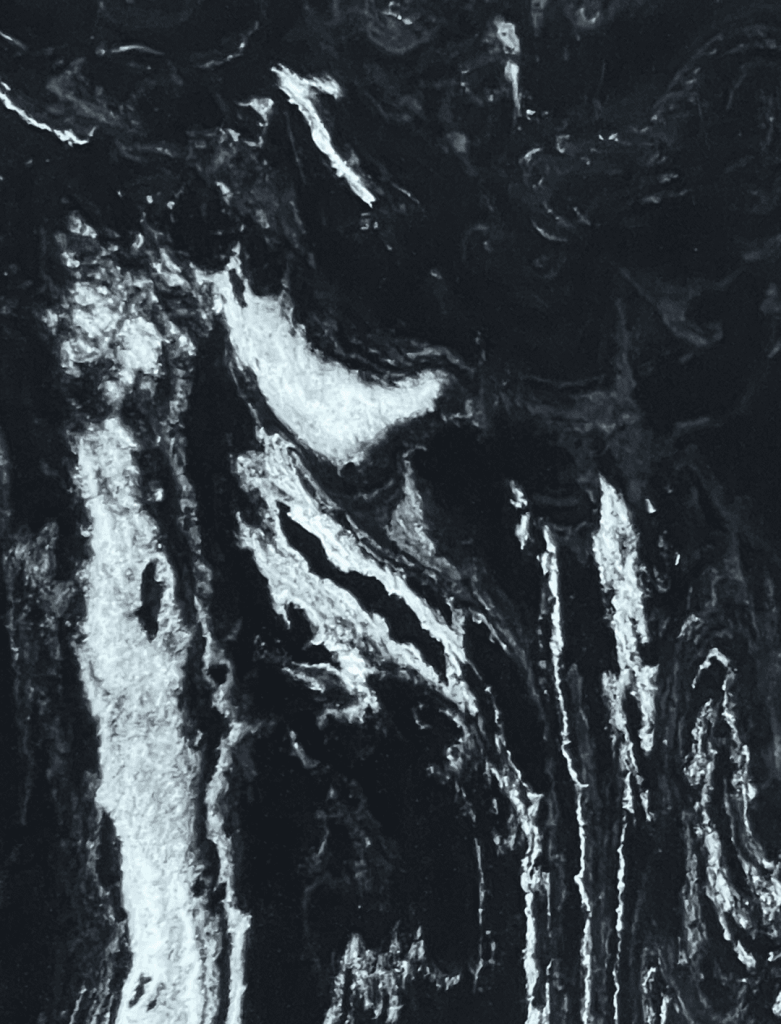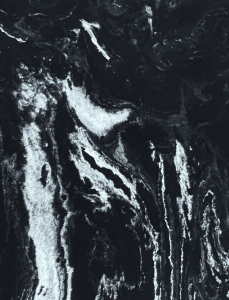 We also offer our products in Solid black for a real edgy feel.
Have a look at our customized black products which can add richness in your bathroom:
This sleek new design featuring linear drain with stainless steel cover and thresholds on all sides allows unlimited placement options including flush mounted or standard installation. The Lato's low profile base is very versatile and will enhance any bathroom with a modern updated look.
Not only can you get a black coloured base, you can get it customized too" Feel free to add a barrier free ramp and threshold to create the perfect base for your bathroom space.
Pictured here is one of our LATO bases with a linear drain – all of our products can be made in any colour we offer. This base is inAL4004 Baffin.
Customized Vanity Tops
Looking for a sleek, customized black vanity top? We've got you covered. All of our vanity tops can be customized to your specifications. You can choose the colour, dimensions, edge profile and more to create the perfect piece for your space.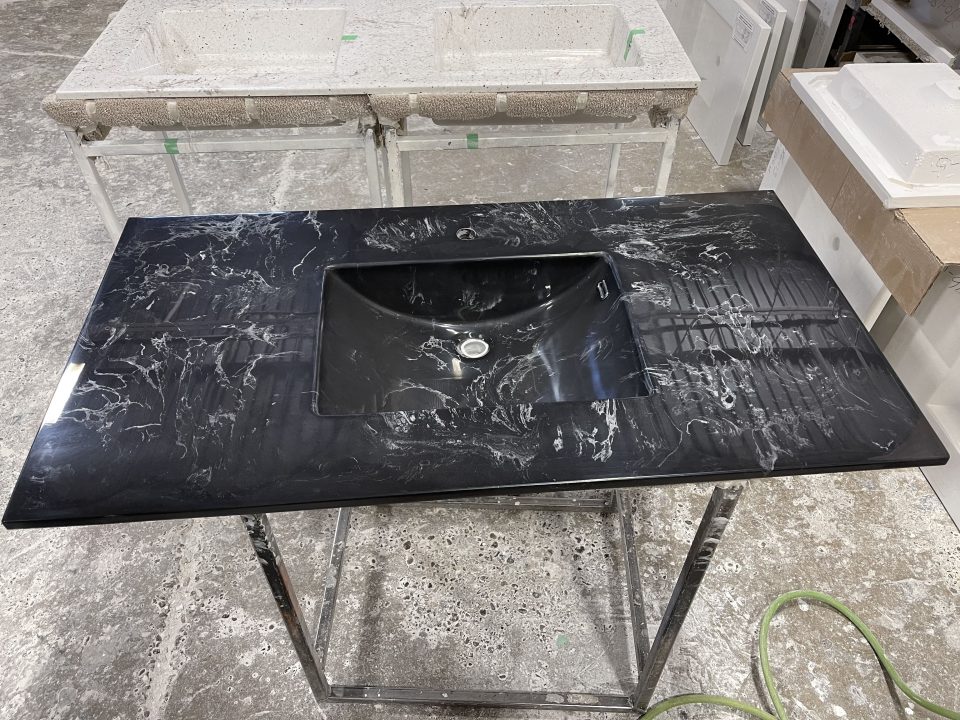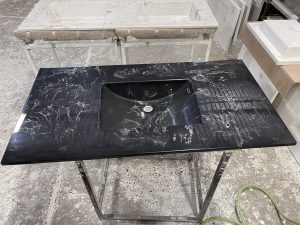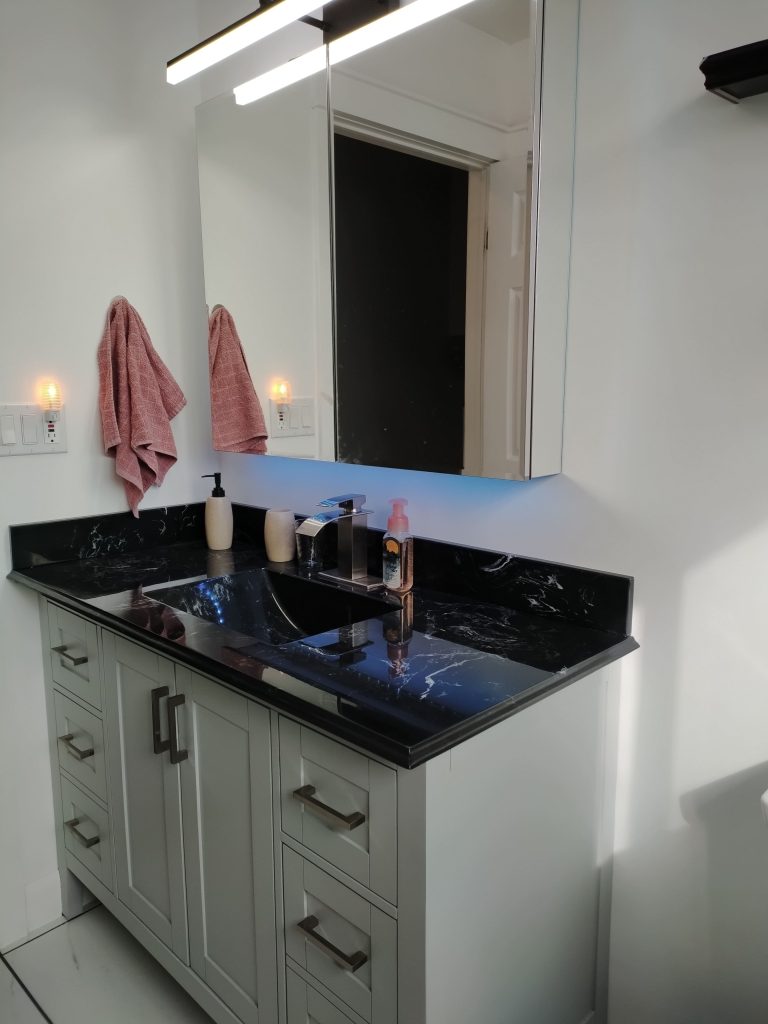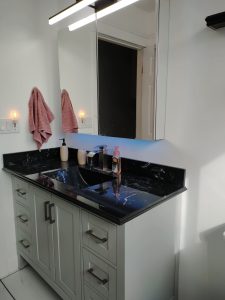 Select 'Request a Quote' on our website and indicate what you're looking for and our team of experts can work with you to develop the product that best suits your needs. This vanity top will make you fall in love with the richness of black it comes with.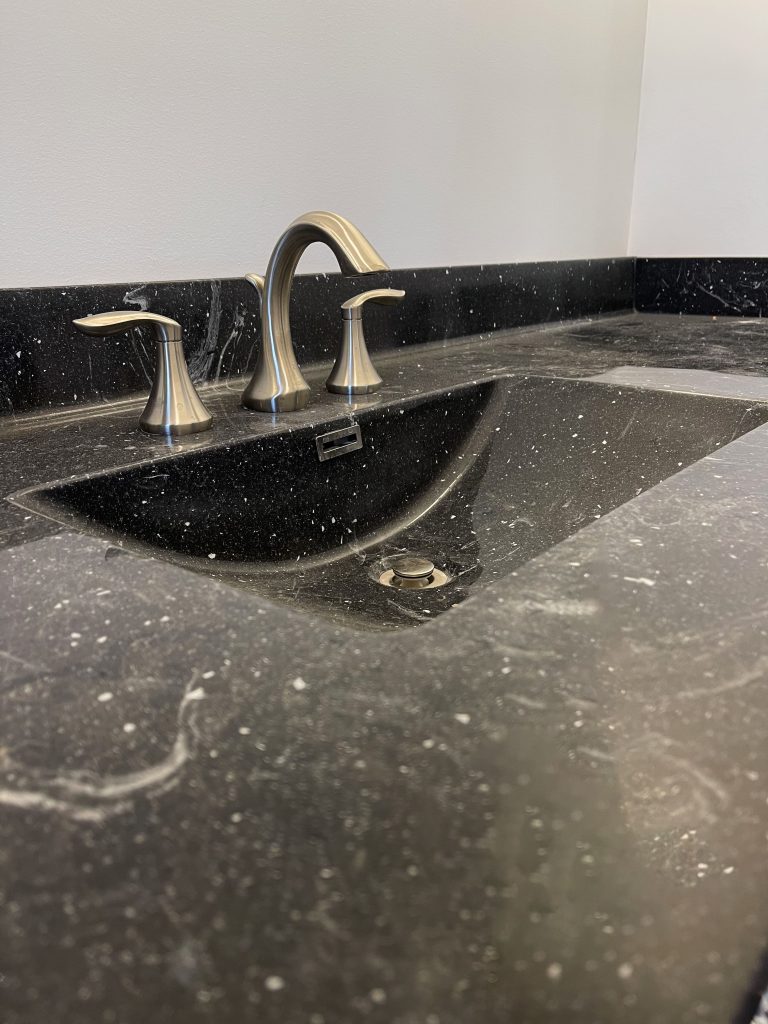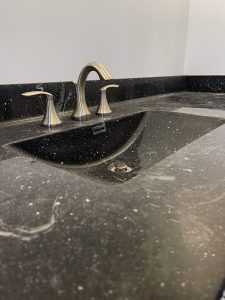 MR Marble's Black Wall Panels
Our wall panels are timeless and groutless – they're easy to clean and even easier on the eyes. Wall panels can be installed in bathrooms with a tub, shower or shower floor. Our wall panels are 1 panel for each wall – including 1 for the ceiling if that's what you desire. Our panels are attached using 100% silicone.

Take Your Mr.Marble Product Outside the Bathroom:
Although our panels work exceptionally in the bathroom, we've found some other pretty great places to put them. They can be used as a table top, coffee or end-tables and even as an accent wall.
if you're interested in upgrading your living space, Contact Us to customized your dream space. When requesting your quote, make sure to include the key details and customization options that you're interested in and our team will work with you to bring your vision to life.
Refer to the below blogs for your reference:
Cleaning Tips to Maintain Your Mr. Marble Bathroom