Integral Sinks are seamlessly joined to the counter Top and are finished on the inside.Marbleized finishes with the inside sink area tend to have a vertical/running vein style when compared to the flat portion of the top. This vein style cannot be controlled.I darker Vein colour it appears more pronounced.Another option would be to ordered an undermount Sink or vessel Sink.We now offer 2 ceramic undermount Sink[Rectangular And Oval].Undermount Sink Ordered From Mr Marble will be shipped mounted to the counter top.
Drop-In Sinks (self rimming)- not available from Mr Marble.Stand alone Vessel available.Barkley.
3
Mr Marble will install our Under-Counter
Mr Marble will install our Under-Counter Sinks with your order when using Mr Marble counter top material.A surcharge will be apply to mount any other manufaucture Sink to our counter top. Mr Marble has available.Celets Wave-X1.Avenue AV177 and three ceremic (Oval[/smaill/large] and Rectangular)
4
Above the surface Vessel
Above the surface Vessel are reminiscent of china washbasens,with finished inside walls.They can be installed to rest above the countertop, or in some cases can be undermounted[Vaneir only].[Note: These Sinks are only available in solid color or our Abrakstone colour finished].
5
What faucet spread do you have available?
The diameter of our holes are 1-⅜" and we offer single hole 4" or 8" spread.
6
What is your standard edge treatment?
Our standard edge treatment is a ¾" square edge.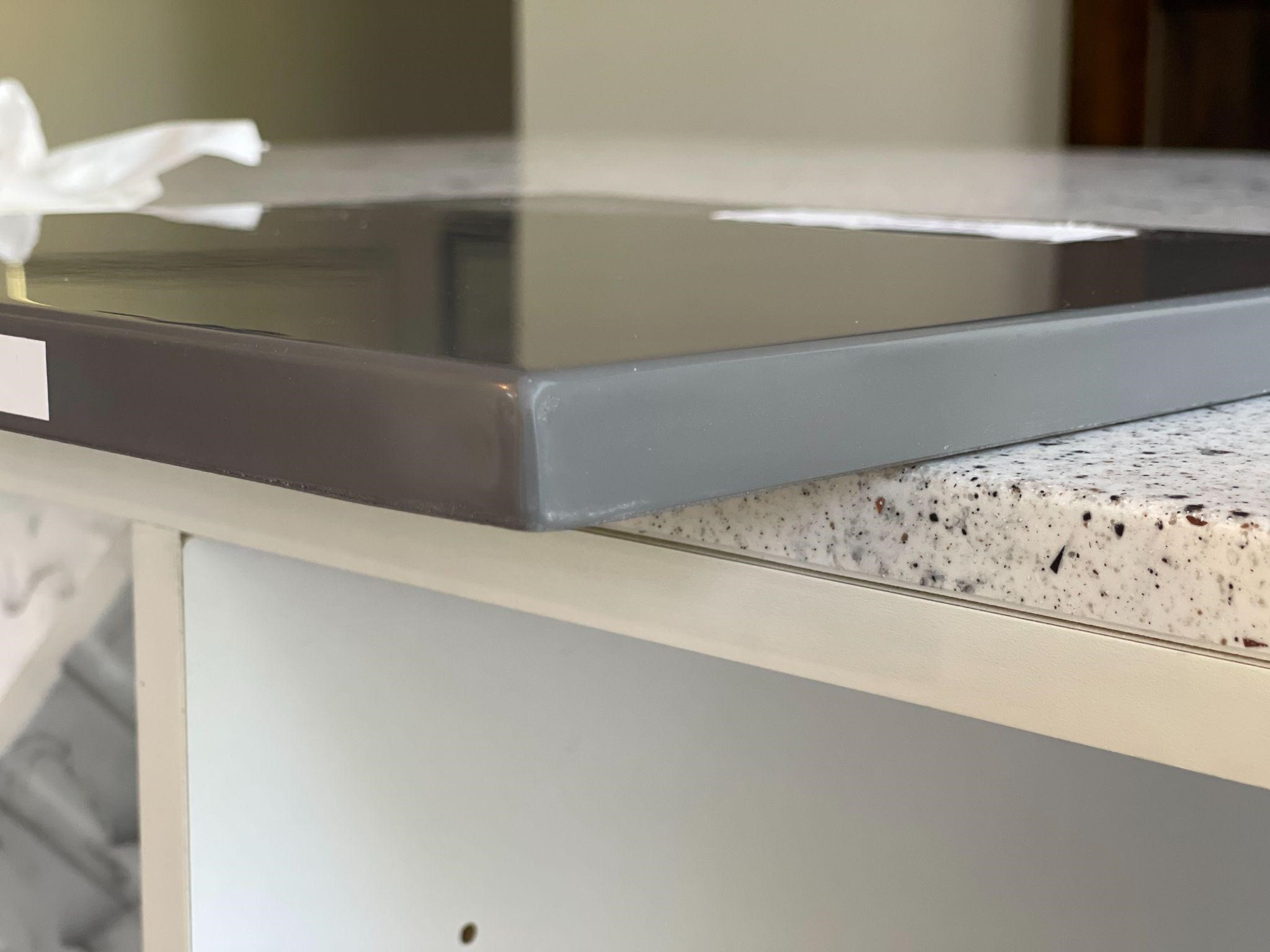 7
What edge treatment options do you have available?
We offer a variety of edge treatments with certain limitations.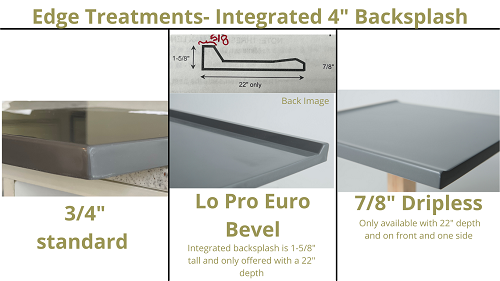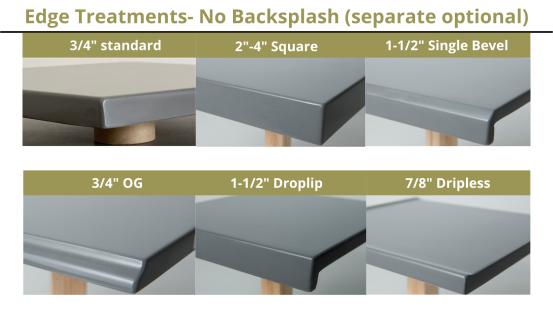 8
Can you make irregular shaped vanity tops?
Yes - Please provide a diagram of what shape your looking for and we can get it done for you!
1
Do you have a standard base that would accommodate 36" wide by 48" long requirement? If not, is it possible to have a base made that way?
Drain Placement is customizable and we should be able to accommodate your needs with 36" x 48" size.
2
Are the bases available in the same colours as the wall panels?
All products are available in the same color, Bases, Walls, Accessories and can be mixed.
3
How are all of the joints sealed?
Panels are glued and Joints are sealed using 100% Silicone. Following the correct procedure.
4
Do you provide installation services or is that through a third-party?
We do supply install services and this can be quoted.
5
What's the difference between a shower base and a shower floor?
Shower bases come with side walls (your choice between 2-½", 3" or upgraded 4" tall) whereas our Cubetto Floors do not come with side walls.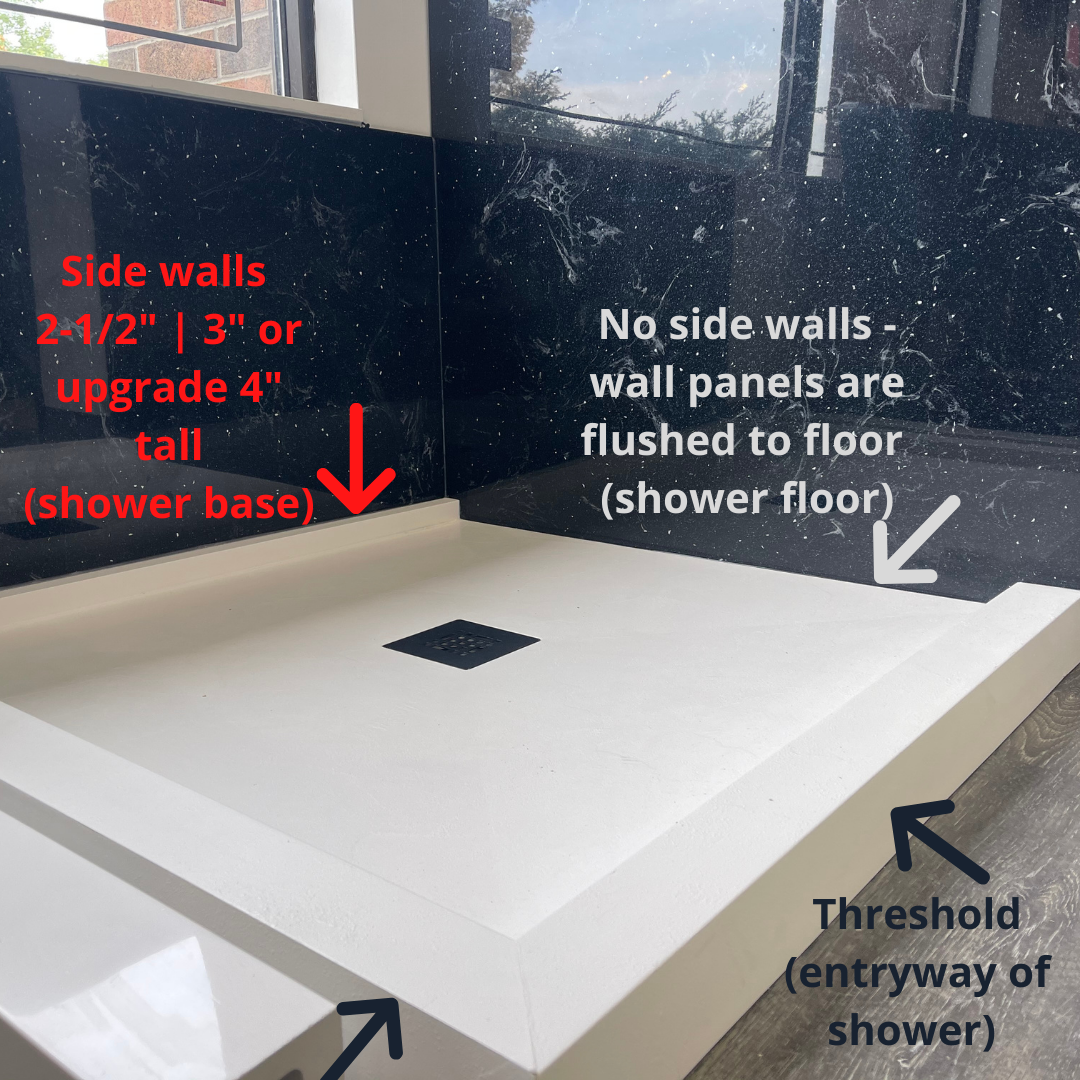 A threshold signals the entryway of the shower. Anywhere that there is an opening on your shower, you will most likely include a threshold.
7
What are waterdams? Are they necessary?
Water dams ensure that your base does not leak on the sides where there are walls. They are a very slim additional piece on the sides of your shower base. You do not see the water dams once the base/floor is installed but they are essential and will be put on every shower/base and floor.
8
What type of drain cover do you offer?
Our LATO bases come with a standard linear grate in stainless steel. We offer circular or 5x5" square drains (in white, black and stainless steel) on our other bases/floors.
1
Can wall panels match the shower base colours?
All products are available in the same color, Bases, Walls, Accessories and can be mixed.
2
Can the wall panel material be used on the ceiling of the shower stall as well?
The Wall Panel for the Ceiling is available and it would be the first panel to be installed if ordered.
3
What base material is required behind the wall and ceiling panels? Cement board? Drywall?
The Drywall choice would be cement board or waterproof drywall.
4
Are the recessed Niches available in the same colours as the wall panels?
The Niche colors are also available in the same color as the wall panels.
5
How are all of the joints sealed?
Panels are glued and Joints are sealed using 100% Silicone. Following the correct procedure.
6
Do you provide installation services or is that through a third-party?
We do supply install services and this can be quoted.
7
Can your wall panels be used in place of ceramic tile on the wall around a bathtub without a shower so that it matches the new shower stall. (The bathroom will have a separate shower stall and bathtub).
Wall Panels can be used in Shower Stalls & Bath Tub bathing areas.
8
What thickness are your wall panels?
Our standard panels are ⅜" thick. We offer ¾" slabs as well but do not recommend them as bathroom wall panels as they are very heavy.
9
How tall can one panel be?
96" is the tallest we offer.
Cleaning and Product maintenance
1
What is the best way to keep my Mr.Marble product looking new and clean?
In order to maintain the beauty and 'good as new' look of your Mr.Marble product for a lifetime of beauty follow a routine cleaning with a soft sponge or cloth and a nonabrasive aerosol cleaner is all that is normally needed to give many years of trouble free service to your composite product. ● Cleaning agents such as multi-purpose spray or liquids common in the household cleaning aisles are appropriate ● The use of abrasive grit cleaners may cause scratching, discoloration, and dullness to the surface of the composite material ● Make sure to polish your composite Mr.Marble products on a regular (monthly) basis with a nonabrasive liquid auto wax or gel gloss. Gel Gloss can be found at most retail plumbing stores or box hardware stores.
2
How do I safely remove tough water stains from my product?
● Try a cleaner that's used for removing iron and calcium (such as CLR), then rinse ● For a more natural solution, add equal parts warm water and vinegar to the area. Let it sit for 30 minutes and use a toothbrush to scrub the area. Rinse with clean water
3
How do I clean my shower base?
Shower bases can be cleaned with any of the non-abrasive cleaners: spray cleaner and leave on for five minutes, then scrub with a soft-bristled brush to remove soap residue. Rinse thoroughly
Warranty, Damages & Key Considerations
1
What is your warranty policy?
Mr. Marble offers a 1 year limited warranty on materials and manufacturing defects. This limited warranty starts for the date of delivery to an authorized dealer. Proof of purchase is necessary to apply the warranty.
2
Does your warranty not apply in any circumstances?
Mr.Marble's warranty policy does not apply in cases of: damage during installation, accidents, alterations, abuse or wrongful use of the product, not properly regulating water temperature as recommended and using flat type of drain hookup, not following storage instructions, installation or cleaning instructions, damages caused by fire, excessive heat, cigarette burns, heat sources and natural disasters, damages caused by installing a sink: plumber must not use putty or tighten with a wrench.
3
Does the water temperature need to have a limit?
Yes, water temperatures must be set lower than 60° C or 140° F otherwise excessive use of extremely hot water can damage the product and void the warranty.
4
Does Mr.Marble provide repairs?
Yes - based on our assessment of the issue (and upon customer providing photos and details) and depending on the warranty of your product, the repair service/call will be subject to charges. Removal or reinstallation of products are not covered.
5
How can I repair minor surface scratches?
Minor surface scratches and cigarette burns can be repaired by the customer. By using a polishing compound and a polisher. Sand the area using 600-800-1200 grit sandpaper. Begin with the lower number grit and progress to the higher number. Overlap each pass and go perpendicular to each pass. Finish by polishing the surface with automobile polishing compound
1
What are your shipping rates?
All shipping prices are paid for by the customer. Due to the weight and fragility involved with our products, freight charges are based on your specified zone/distance (greater than 30km from our location in Concord). Shipping rates will be determined when your quote has been reviewed and submitted back to you.
2
Can I cancel/change my order?
Cancellations can be made ONLY within 48 hours of the order received date. Cancellations must be confirmed with BOTH a written confirmation and a phone call. If you are looking to make any changes, please contact us directly and our orderdesk will make the corresponding changes if possible.
3
Do you ship across Canada?
Yes - we offer shipping across Canada.
1
Will my product turn out the exact same pattern/style as the photo?
Variance in colour veining and textures from samples shown is to be expected and is part of the natural beauty and uniqueness of your finished product.
2
What type of custom colour does Mr.Marble offer?
We are able to offer any colour that you have in mind – if you bring us a sample of the unique colour you're looking for, we can bring it to our supplier and try to find a close (or perfect) match. See below for an example of a sample marble colour we created for one of our clients. Additional charges will apply for custom colours.