When it comes to designing a bathroom, selecting the right shower base is essential for both functionality and style. We offer a wide variety of both standard and customizable shower options. All of our showers are non-slip, durable, long-lasting and free of any grout (yay! No mold!). Each of these choices offers unique features and advantages, catering to different tastes and requirements. Below highlights the main differences between e shower pan style we offer.
Traditional Shower Bases: Traditional shower bases have stood the test of time and are made for individuals who want simplicity. Our standard sized traditional stone bases are the most budget friendly options.
Here are the key characteristics of traditional shower bases:
Side Walls: Traditional bases all have side walls (a lip where your stud walls are located). Your wall panel or tile will sit on top of this. For standard sizes, the side walls are approximately 4" tall. For custom bases, you can choose between 2"-4.5" tall.
Circular Drain: The standard traditional stone shower bases all come with a circular drain. They can be customized to have a square drain cover.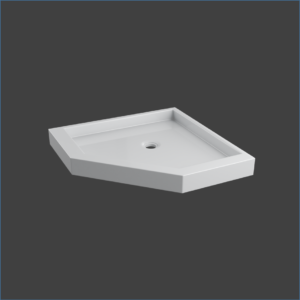 Here are the key features that distinguish Lato bases:
Minimalistic appeal: Lato bases sport a low-profile design, 2" all around. They are sleek and minimalist but provide all of the support to ensure that there are no leaks.
Fixed-Standard Size: The LATO base is the one base style that cannot be customized. We offer 5 standard sizes in our LATO linear drain bases.
Linear Drain: What makes the LATO base a standout, is their linear drain. All LATO bases come with either a stainless steel or matte black linear drain that can be positioned on any side of your shower.
Let's explore the distinctive features of Cubetto bases:
Customizable Floor Placement: Cubetto floors are unique because they can come with a threshold (front lip) or without. If they come without a threshold, they can be flushed to your floor. If they come with a threshold, you can add glass doors on top or have that extra lip to prevent water from leaking.
Less Material Used = Better Cost Benefits: Since the Cubetto floor does not have side walls, there is less material being used. Less material = less expensive. Individauls looking to create custom solutions on a budget should consider the Cubetto shower floor as it gives you the customizable solution without having to break the bank.
Selecting the perfect shower base for your bathroom is a critical decision that affects both functionality and aesthetics. Whether you desire a seamless and contemporary look, a geometric statement piece, or a versatile and cost-effective option, understanding the differences among Lato, Cubetto, and Traditional shower bases will empower you to make an informed decision and create a stunning bathroom space.
Explore our diverse range of
MrMarble Shower bases collection
, consider your needs, and consult with a professional to ensure the ideal fit for your project.